Bunn retains trophy but a close call with Carrington.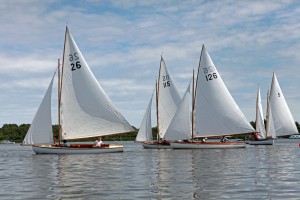 The Norfolk Punt Club (NPC) hosted their annual week-end event for the Consortium Cup together with a newly trophy donated by Ann Whelpton to be presented to the first boat overall from the host club.
There were 11 starters for all four races.   Saturday's racing was a breezy but fickle wind, shifting NW – NE.   In the 12 o'clock Chris Bunn (Fox) took an early lead in front of Paul Carrington (Peacock) and Simon Daniels (Silver Blue) but Felicity Foulds (Copper Captain) fought hard to finish third behind the two leaders.
Before the second race, Bunn seemed to have trouble with his gaff and the sails not hoisted until the I minute bell but he was still first to the windward mark.   Cath Mason (Cupido), with local knowledge, tried the East gap by the island but it gave no advantage although Daniels also familiar with the Broad, used a good lift along the East shore to gain third place behind a repeat of the two dominant boats.
Sunday morning was too quiet for the 10.30 start and a postponement was followed by an uncertain North-easterly which hindered many on the line but Carrington used it to take an early lead.   Bunn and Foulds again worked their way through the fleet and, after a shortened course, finished second and third respectively but it was Carrington taking the honours and so throwing open the final race for the trophy.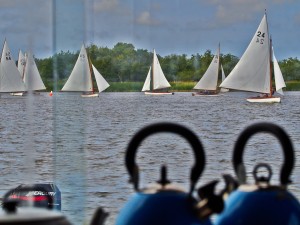 By 12.30 the wind was still light and variable and more Easterly.   Foulds and Bunn in that order, shadowed each other for the first lap with Carrington always close in contention and needing specifically a first place to secure the trophy.   Knowing this, on the second lap downwind, Bunn luffed Carrington almost to the Western shore allowing others of the leading fleet through to the gybe mark.   Carrington, to his enormous credit, fought back through the fleet but only finishing third behind David Adler (Marsh Ringlet) and Peter Robbins (Small White). The latter consistently well up the fleet in all races and having profited from the Bunn / Carrington battle to secure the Ann Whelpton Trophy, narrowly beating Simon Daniels.
Final Results.
Consortium Cup.
1st.       Fox  (Cris Bunn)
2nd.      Peacock  (Paul Carrington)
3rd.       Copper Captain  (Felicity Foulds)
NPC Ann Whelpton Trophy.
1st.       Small White  (Peter Robbins)
2nd.      Silver Blue  (Simon Daniels)