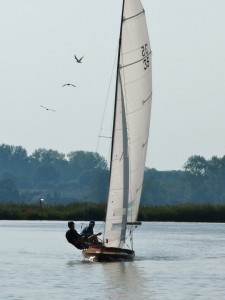 Tuesday Evenings – 15th May to 7th Aug (inclusive)

The rescue boat leaves the staithe at 6:30 for those requiring a tow and racing commences at 7:00pm. Two races are held if weather conditions allow and hot drinks are available
Tuesday evening racing has been such a success that is it now the highlight of the week for the relatively small group that turn up without fail each week.
So why not come and join us for some wonderful evening racing.
These evenings are ideal for those who are building up confidence to race as the winds tend to be a little lighter than some Sundays. There are hot drinks and cookies or cake afterwards!
We will be organising a rota again this year for the duties
If you raced last year, Simon Daniels will be in touch to ask you to do one or maybe two duties during the 15 weeks to share out the responsibilities. If you are interested in joining you may also be asked to help out but as well as being a good grounding for starting to race, it will also be a good opportunity to practise OOD's and rescue boat skills with someone to help you if you wish.
Timings
5.30 / 6.00 pm
OOD and Rescue people to arrive to set course, put out buoys and put on the kettle.
OOD to bring out one pint of milk and biscuits if you wish.
Tea, coffee, soup or hot chocolate provided in tea hut.
6.15 pm
Rescue crew to go in ready for tow out.
6.30 pm
Tow out.
7.00 pm
First race or two races back to back.
Hot drinks provided.
Please phone John Seeley to make your pledge for a Tuesday evening duty