181014 Norfolk Punt Club Diary 2019The Norfolk Punt Club welcomes new members. If you would like to come and have a look at the facilities, go for a trial sail and meet other members, please get in touch with one of the flag officers or the membership secretary.
Membership secretary
Mrs Caroline Dixey
Rushlight Barn, Birch Way, Mundham, Norwich, NR14 6EN
E-Mail : membership at puntclub.co.uk The Membership Secretary
2019 annual membership fees are;
Full member – single – £82
Joint members (partners, husband and wife) – £123
Family Membership (joint members including all children aged under 18 on 1st March in year) £149
Associate member (lives outside Norfolk and does not keep a boat within 10 miles of the Club premises) – £46
Student member – (in full-time education) – £41
Junior – under 18 (must be under supervision of an adult when using club facilities) £26
These fees apply for payment made by direct debit only. There is a levy for non-direct debit payments. For details, please contact the Membership Secretary.
To download an application form click below:
PDF
Word Doc
---
From the land
The Norfolk Punt Club moorings are located beside the Staithe at Barton . Just north of Hoveton and Wroxham, only half an hour from Norwich. Directions to the staithe from Norwich are;
From Norwich, take the A1151 through Wroxham and Hoveton.
About 2 miles after leaving Hoveton, turn right onto an unclassified road signposted Neatishead and Barton Turf.
Go through Neatishead (beware: blind double bends!) over the culvert bridge and take the first turning right (Hall Road), signposted Barton Turf.
On reaching Barton Turf, fork right beside the green, signposted "Staithe", and continue straight on down Staithe Road.
Parking for members is available at Barton Turf Adventure Centre (remember to display the NPC car sticker). Guests can use the public car parking facilities on the staithe and walk down the path to the club moorings.
From the water
The club pontoons are situated in the middle of Barton Broad!
---
See attached the 2019 Club Diary;
| | |
| --- | --- |
| Committee Meetings (all dates TBC) | 7 March, 17 May, 26 July, 6 September, 18 October |
| Working Parties dates TBC) | 9 February, 23 February, 9 March |
| Radio Controlled Lasers | 8 December, 5 January, 9 February, 9 March, 6 April |
| Winter Social Event | 2 March |
| Towing Out | 23 March |
| Fitting Out Supper | 6 April |
| Punt Owners AGM | 29 March |
| Power Boat L2 | 30-31 March |
| | |
| Safety Boat Course | 13-14 April |
| Barton Bunny Pursuit Race | 20 April (Easter Saturday) |
| 1st Sunday sailing | 28 April |
| White Boat Training Day | 11 May |
| Go Wild at Barton | 12 May |
| 1st Tuesday sailing | 14 May |
| Push the boat out/Social Saturday | 18 May |
| Adult Training (Fridays and Saturdays) | 17/18 May, 21/22 June, 12/13 July, 20 July |
| Three Rivers Race | 1 and 2 June |
| Junior Training | 8, 15, 22, 29 June |
| Cruiser Open | 8-9 June |
| Yare and Bure Open | 15-16 June |
| Social Saturday | 22 June |
| Bittern Open | 23 June |
| Norfolk Show | 26-27 June |
| Punt Open | 29-30 June |
| Social Saturday | 13 July |
| Improve your Racing | 14 July |
| Jubilee Bowl | 28-Jul |
| Last Tuesday racing | 6 August |
| Social Saturday | 10 August |
| Punt Championships | 17-18 August |
| Junior Week | 19-23 August |
| Assistant Instructors course | 19-23 August |
| Regatta | 24-25 August |
| Barton Broad Open Regatta | 26 August |
| Broadland Youth Regatta | 31 August |
| Junior Takeover Day | 1 September |
| Bart's Bash | 15 September |
| Social Saturday | 28 September |
| Last Sunday sailing | 29 September |
| Barton Charter Yacht Regatta | 6-10 October |
| Athene Cup | 12 October |
| Towing In | 26 October |
| AGM | 23 November |
| Annual Dinner | 25 January 2020 |
| | |
| EVENTS NOT INCLUDED ABOVE | |
| | |
| Punt Training and Tuning Day | To be advised |
| | |
---
CLUB FACILITIES
Members to the club can benefit from;
On Land;
Car parking
Berthings
Slipway for launching boats
On the water
Changing facilities
Toilets
Moorings
Tea making facilities
Barbeque
and of course, ample cakes
---
The club has 6 boats for members to use.
Please read the attached document should you wish to use the club boats; Club boats conditions of use
Yeoman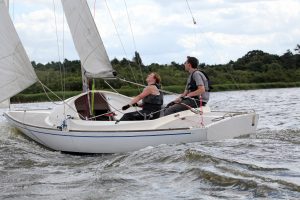 The Yeoman is a good sized keel boat. It has excellent all round performance making it ideal for family use. It is easy to control but has the performance to provide exciting action when racing. It can be raced with either 2 or 3 crew. The class is countrywide with various fleets on the Norfolk Broads and others in Scotland, Northern Ireland and the South Coast.
2* RS Feva's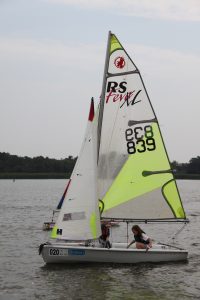 The RS Feva is simple to rig and easy to sail yet gives great performance with an asymmetric spinnaker. The Feva has spread rapidly all around the world and has training and racing programmes for novices through to world championship level racing. Perfect for two young sailors or adult and child teams, the Feva can also be sailed single-handed.
2* Laser 2000

A very good FUN boat, our new Laser 2000 has now replaced the RS Vision. This is a great boat for racing or just pottering. It will take 3 adults or parents and a couple of children.
Comfortable to sail with a nice high boom and a self draining cockpit and is very easy to sail. Furling jib and an asymmetric spinnaker to play with. It is fairly forgiving but can still challenge you. It has a training main that can be reefed so is great in a blow BUT there is a racing main available if folk want to seriously race the boat – Mark Elson looks after that.
Many of you may have already sailed a Laser 2000 at Minorca Sailing or other Med sailing schools. Video Player 00:00 00:10
Laser

One of the most popular single handed boats for adults. Very simple to rig and launch but you are likely to get wet!
Oppie
The Oppie is a small, single-handed sailing dinghy intended for use by children up to the age of 15 (depends on size of the child). It very popular and the ideal boat for children to learn in.

In the nineteenth century, duck punts were used for wildfowling and fishing. The punt would often be hand-paddled to the quarry, with the gunner lying prone in the bottom. When a target presented itself, the gunner banged his hand on the side of the punt and fired as the duck took to wing.
Over time, rather than rowing long distances, the gunners began to set lug-rigged sails and they found that their punts, without keels or lee boards and steered with an oar off the quarter, could sail surprisingly fast in good conditions.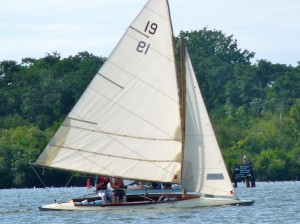 Different designs of punts were developed on Breydon Water and Hickling Broad and in the 1920's they began to race against each other at local regattas. Following lively correspondence in the Eastern Daily Press in 1926, the Norfolk Punt Club was formed "to preserve and if possible improve the traditional local type of punt and to encourage competitions in quanting, rowing and sailing of same".
The existing Norfolk Punts were measured and class rules formulated for new boats. Overall length was between sixteen and twenty two feet with sail area restricted to eight square feet per foot of length. Initially spars had to be stored within the hull effectively imposing a Gunter sloop rig. The maximum cost of the hull was fixed at £2 per foot of overall length and the cost of all other gear could not exceed £15.15.0 so that the all in price for a 22ft punt was around £60.
In 1929 Uffa Fox (possibly the foremost small naval architect of the 20th century) joined two sections of mast together with duralumin tubing and the resultant punt became the first to be Bermudan rigged. Amid regular controversy, the class building rules were continually changed as owners found ways round the initial restrictions.
Initially, the Club organised races throughout the Broads, but in 1935, they bought a Harland and Wolff lifeboat, which was converted to a houseboat by Cox Bros at Barton Turf. This was then moored on Barton Broad to become the headquarters of the Club, and regular Sunday racing was established. Additional rafts were gradually added and the lifeboat replaced after the Second World War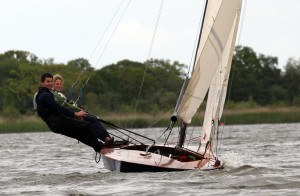 After the war, the Norfolk Punt Class found the cost of clinker boats too expensive and commissioned Wyche and Coppack to develop a one-design hard-chine boat. In 1977, a fibreglass mould was produced, again to save costs, so that the hard-chine boats could be constructed out of fibreglass. A further development continued with a somewhat different design by Phil Morrison in 1998 with an asymmetric spinnaker.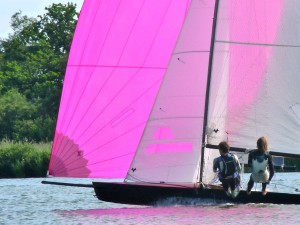 The Norfolk Punt has been one of the fastest single hulled boats for the last eighty years – it achieved 13.8 knots at the world speed trials in Weymouth Harbour in 1978 – considerably faster than a Flying Dutchman. The new Morrison design is much faster than the hard-chine design.
Today the Norfolk Punt Club organises racing for a wide variety of craft and has some 550 members. It tries to maintain its original ethos of informal, economical and gentlemanly sailing combined with a love of the beauty of the local environment. In addition to weekly racing on Sundays and Tuesday evenings from May to September, there are a number of Open Events held throughout the season and each August, the Club holds its Open Regatta, attended by sailors from all over the Broads racing a wide variety of boats. This event is organised in conjunction with the Barton Broad Open Regatta Committee which is responsible for the racing on Bank Holiday Monday.
---
The club is run for the benefit of its members. The committee are elected by members at the AGM and are responsible for ensuring the club runs smoothly.
Commodore – Alex Craker
Rear Commodore – Martin Mills
Vice Commodore – Michael Palmer
Committee members – Carol Watson, Caroline Dixey,, Alan Davis, Kate Dulieu, Aaron Male, Ian Mason, Kira Mason, Tim Edmunds, Drew Wilton
Secretary: Amanda Brooks
Treasurer: Rick Sealey
If you are interested in becoming a member of the club, please contact one of the flag officers;
commodore@puntclub.co.uk
vc@puntclub.co.uk or
rc@puntclub.co.uk
For NPC membership applications, please contact the Membership Secretary
Mrs Caroline Dixey
Rushlight Barn
Birch Way
Mundham
Norfolk
NR14 6EN
E-Mail : membership at puntclub.co.uk The Membership Secretary
For NPC applications for berths in the club moorings, please contact
Mrs Alison Sawyer
E-Mail : berthmaster at punt club.co.uk Berths
Volunteers for the Tea and OOD rotas should contact
Mr Nick Dixey
E-Mail : Nick at dixeys.co.uk
For financial matters, please contact the Treasurer

Mr Rick Sealy
E-Mail : treasurer at punt club.co.uk The Treasurer
For website queries, please contact the web editors
webeditor@puntclub.co.uk The webeditor
For all other Club enquiries, please contact the Secretary
E-Mail : secretary at puntclub.co.uk The Secretary