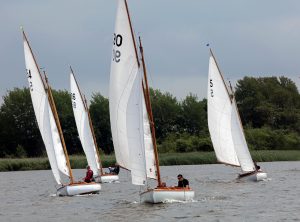 13 YBODS out  of the 14 entered came to the line on Saturday afternoon for the NPC Barton Broad YBOD Open weekend. Saturday was sailed in brisk winds from the NW – NNW 15 gusting 20mph. Two boats put in a voluntary one reef with no obvious change in performance. The wind allowed the OOD to set big courses with three long beats which sorted the contestants out well.  In the second race on Saturday afternoon after the obligatory NPC tea and cakes, the wind had got up a little gusting to 25mph. Chris Bunn took the start and set about dominating the fleet from the front. During the second round the proceedings were livened up for the race crew with Stu Rix catching the mainsheet of Cinnamon Twist (138) around one of Barton's notorious posts (none of those on Wroxham) and the inevitable sinking occurred. No one was hurt and the boat was recovered slowly and carefully with minimal damage and no lost gear, much to the relief of all. The subsequent BBQ on the pontoons was enlivened by the repartee at Stu's expense. 
Sunday was a bit of an anti-climax after that with gentle breezes from the South, gusting gently to 10mph. This gave the OOD the opportunity to get in two very long beats, and Chris Bunn's crew was heard to remark that they had never been on a beat for more than three minutes before – the joys of sailing on Barton.
 Chris Bunn took the Consortium Cup with Ritchie Dugdale second in Alder Kitten, and James Dugdale third in Ghost. The Whelpton Trophy, a very fine half model of a YBOD, presented to the first NPC helmsman was a tie between Daniels and Robbins, and won by Simon Daniels in Silver Blue (54) on the countback. 
 It was a very fine weekend of sailing enjoyed by all, with Barton allowing some of the best sailing on Broadland.