The 2017 Barts Bash will be held on the 17th September
Report of 2016 Race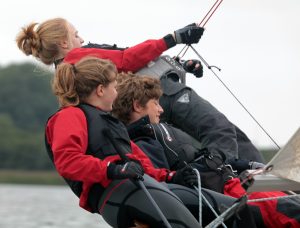 Bart's Bash at the Norfolk Punt Club
The brief summer heatwave was gone and almost normal service resumed. At least the rain had been gracious enough to do it's stuff and then move on before Sunday.
Early signs for a busy day weren't good but gradually they appeared. By the time of the race, 23 boats had sidled up to the pontoons and the crews were now recumbent, waiting to be told what to do.
Series 2, the 13.30 race, was split into 2 races with only 1 start. Thanks to a kindly direct northerly, a very simple course could be set. Start to no.1 buoy and down to R, tucked in behind the island, with instructions to go either way round. Made for some interesting roundings, so I heard.
The Bart's Bash race was just 1 round and then those that wanted to continued on for another 2 rounds to complete the normal series 2 race.
It was really nice to see 22 boats on the start line and quite a number from other clubs and others who don't normally race and who turned up just to do Bart's Bash. A bit frantic in the box though with so many starters and finishers and a change of course for each series.
With significant haranguing by the duty crew we managed to raise the excellent sum of £335.00. Thank you so much to everyone who came and contributed by their presence and their donations.
First home and winners of a bottle of fizz were Alistair and Charlotte Drew in Grayling, followed by Drew and Elska Wilton in Merlin with, in third place, Louisa Dixey and crew Katya Ruda and Sam Briggs in Rushlight. Third was an impressive result considering this was Louisa's first 'proper' race in Rushlight and the crew had never sailed or trapezed a punt before.