The club has 6 boats for members to use.
Please read the attached document should you wish to use the club boats;  Club boats conditions of use
Yeoman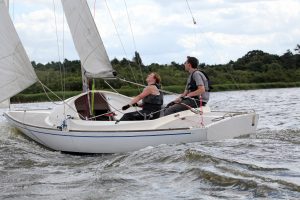 The Yeoman is a good sized keel boat. It has excellent all round performance making it ideal for family use. It is easy to control but has the performance to provide exciting action when racing. It can be raced with either 2 or 3 crew. The class is countrywide with various fleets on the Norfolk Broads and others in Scotland, Northern Ireland and the South Coast.
2 RS Feva's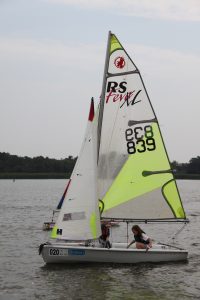 The RS Feva is simple to rig and easy to sail yet gives great performance with an asymmetric spinnaker. The Feva has spread rapidly all around the world and has training and racing programmes for novices through to world championship level racing. Perfect for two young sailors or adult and child teams, the Feva can also be sailed single-handed.
Laser 2000  There are two of these boats.

A very good FUN boat, our new Laser 2000 has now replaced the RS Vision. This is a great boat for racing or just pottering. It will take 3 adults or parents and a couple of children.
Comfortable to sail with a nice high boom and a self draining cockpit and is very easy to sail. Furling jib and an asymmetric spinnaker to play with. It is fairly forgiving but can still challenge you. It has a training main that can be reefed so is great in a blow BUT there is a racing main available if folk want to seriously race the boat – Mark Elson looks after that.
Many of you may have already sailed a Laser 2000 at Minorca Sailing or other Med sailing schools..
Laser

One of the most popular single handed boats for adults. Very simple to rig and launch but you are likely to get wet!
Oppie
The Oppie is a small, single-handed sailing dinghy intended for use by children up to the age of 15 (depends on size of the child). It very popular and the ideal boat for children to learn in.