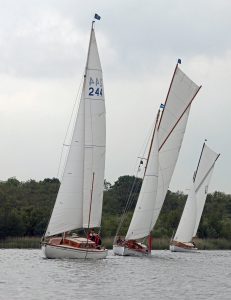 Open to all River Cruisers.
Saturday
Briefing 1 p.m.
Races at 2 p.m. & 4 p.m.
Sunday
1030 a.m & 12.00 on Sunday
Cost £25 and includes free tea and cake for all competitors on Saturday & Sunday morning.
Prize giving after the last race on Sunday.
Prizes awarded
Achievement Trophy – Presented by Mr & Mrs Gill in 1999 and awarded at the Barton Cruiser Open event to the Yacht, being a member of the river cruiser class as defined by the class rules, which is placed highest in the overall results of the event, and has a handicap equal to or greater than the lowest of the handicaps as published in the Green Book, of the following three yachts, Achievement (11), Moonraker (22) and Matilda (300) whether of not any of these three yachts is competing at the event.
Barton Broad Challenge Cup – Presented by Mr & Mrs I Mason in 1999 and awarded at the Barton Cruiser Open to the leading yacht in the alternative part of the fleet to the Achievement trophy, with 3 races out of 4 to count
White Horse Trophy – overall winner