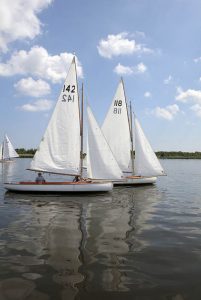 Norfolk Punt Club White Boat Open 17/18 June 2017
16 boats came out for some competitive sailing in light winds on Barton Broad over the weekend.
Winds on Saturday were very light and changeable, testing the skills of helms, determining where the wind was coming from and whether it was continuing to be maintained in any particular direction. One observer commented that Chris Bunn's boat 'took its own wind with it'.
Races proved to be a tussle between Messrs Rix, Bunn and Thompson, with the Consortium trophy being ultimately won by Chris Bunn. The Whelpton Trophy was awarded to Simon Daniels in Silver Blue being closely contended by David Adler in Marsh Ringlet. Whilst the conditions were a test for all boats, Chris Bunn was particularly pleased to win in Fox's inaugural competition, having just got her ready before the event. Liz Chettleburgh demonstrated her understanding of the fickle winds by winning the Lady Helm trophy.