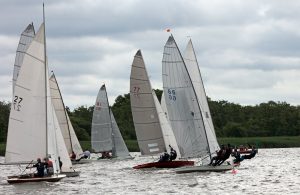 Briefing: 11.30 on Saturday on the pontoons
Races: Saturday to start at 1200, 1400, and
1600.
Sunday at 10.30 and 12.00.
Racing for the Ardea Trophy
4 races out of 5 to count
Travellers Series Event
Tow out from Barton Turf at 10.45 on Sat & 9.45am on Sun
Entry fee = £15
Sat Night: BBQ on the Pontoon – bring your own food &
drink, cooking facilities provided.
Important new sailing instructions – Please ensure ALL your crew
bring BUOYANCY AIDS as they will be compulsory if windy!
For more information contact:
Punt Owners Association Secretary: Rupert Reddington rupert@neontribe.co.uk
Prize giving after the last race on Sunday.