HALFDECKER LUGSAIL

Lugsail halfdecker lying Norfolk Broads.  GRP hull; with covers, purpose-built trailer, outboard motor and all necessary gear.  Excellent condition throughout.  Versatile, responsive boat for family/single-handed sailing.

£8,750     Tel:   01692 598296
---
Radio control Laser
Full package includes:
Hull with 2.4 radio set
Laser carry bag
Sail carry bag
A, B, C and D rigs all complete with individual masts and booms. Booms fitted with downhauls. C and D rigs never used. A rig used once, and B rig used six times.
Burgee by Sails ETC.
Bank stick
Boat stand
Spare rudder
TX and RX batteries and charger
£625 – postage/delivery/collection by arrangement. Contact Val nevilleandval@gmail.com
---
Laser 'Eclipse'
For sale – £750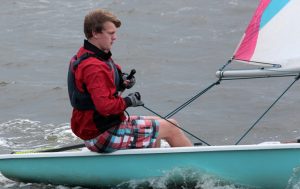 Sail no. 137349, built c1987
Full rig with lightly used Rooster sail, plain white with correct number
Hull and foils in good order. Hull ships no water. Gelcoat in a lovely and unusual colour
XD kit installed and working well
Tailored dark grey acrylic canvas cover only 2 years old
Galvanised steel launching trolley
Frequent race winner but just not needed any longer due to punt racing commitments
Can be seen at Cox's Boatyard
---
Topper
Blueberry is a well-loved family dinghy, perfect for training new sailors, kids and (small) young adults. Owned for 15 years, sailed regularly up until the last few years and has won numerous club trophies.
Sail no. 25543
New Topper sail
New Topper trolley
New flat cover
Boat, spars, sail and trolley all in good condition.
Norwich viewings available.
---
Brambling   Feltham 15 Clinker-built half-Decker
Brambling was designed & built by Harry Feltham of Gosport in 1936.
She is a 15ft pine on oak clinker-built Half-decker with a drop-keel and varnished & antifouled hull.
Designed for estuary sailing with a good sheer to cope with short seas.
Bermuda rig with roll reefing and a small foresail on a roller. There is a bracket for an outboard.
Easy to sail single-handed, she can carry up to 6 people.
She has been very well cared-for by all her owners and is in a good state of repair.
She was refitted in 2008 with new decks (Canvas & resin over ply)
Original brass fittings including jamming cleats.
Mast & boom, Pine with brass fittings
Sails   Man-made sailcloth Main & foresail in good repair
Original cotton main & foresail
Heavy duty overall cover Green (new 2013)
Trailer available by separate purchase.
£2750.00
Please contact simonjennerorchard@gmail.com 07754 710654
---
---
Lady Sylvia no 60, hard Chine Punt.
Not used for a few years kept under cover. Probably sailable as is but in need of TLC. Currently rigged for asymmetric spinnaker
Contact Chris Williams
ckwstable@aol.com
0044 7802 253473
---
Norfolk Punt 40 – Decoy is for sale.
Decoy was built in 1937 by H T Percival of horning based on a Herbert Woods design.
Please contact Harry Scott for more details
---