RS Vision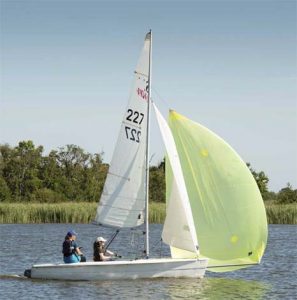 The Punt Club has changed its family dinghy so is looking to sell the RS Vision.
RS Vision for sale featuring reefing main, furling jib and yellow asymmetric spinnaker. Sail number 227 (2005). Includes launching trolley and trailer, top cover (cleaned and reproofed). Trapeze kit also included.
This boat is still in good condition and sails well. She has been well looked after and is in good condition for her age.
The RS Vision is an ideal introductory boat with a robust hull, and its stability makes it especially well suited to family sailing.
PRICE REDUCED to £2,100
Alex       alex.craker@virgin.net
---
Splash Dinghy
£895 ONO
No. 1624
One owner
A perfect intermediate boat for budding sailors. With a light-weight hull this class is the perfect step up from a topper or optimist. Suitable for sailors ranging from 45-80kg
It has been well cared for, and enjoyed by our family for a number of years. The boat is in great condition, having always been wintered in a garage and covered throughout the year.
The boat is complete and comes with: mainsail, rudder, daggerboard, mast, boom, all ropes, trolley, undercover, cover and toestraps.
Road trailer available if required (£100)
Collection only, from Norwich area
Contact:
07767440089       01508471532
karenheaton@btinternet.com
---
Laser 'Eclipse'
For sale – £750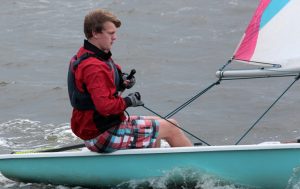 Sail no. 137349, built c1987
Full rig with lightly used Rooster sail, plain white with correct number
Hull and foils in good order. Hull ships no water. Gelcoat in a lovely and unusual colour
XD kit installed and working well
Tailored dark grey acrylic canvas cover only 2 years old
Galvanised steel launching trolley
Frequent race winner but just not needed any longer due to punt racing commitments
Can be seen at Cox's Boatyard
Call the Dixeys on 01508 522182
---
River Cruiser – White Heather – £18,500

Colin Facey 28. Built 1993.
GRP hull & Decks (from Easticks 28 Mould) Wooden superstructure & GRP roof.
LOA: 31ft 8in, LOD 28ft, Beam 8ft 2in, Draft 3ft 6in).
Wooden mast, Gaff Rig, 2 Jibs. RCC handicap of -14%
10hp Volvo Penta inboard engine. Folding propeller.
4 berth cabin (4 singles or 2 singles and 1 double)
Sink, Stove, toilet, 12v cabin lights, running water.
Awning, navigation lights, crutches, quant pole, mud weight various fenders and warps.
Low maintenance all round Broads River Cruiser for sale due to current owners needing a 5th berth. Cruises, races and motors well. Can be sailed single handed. Plenty of scope to improve performance as well, as certain other Eastick 28 owners have done.
Contact Alastair Drew. Charlotte.Alastair@Gmail.com. 07825809501
---
Norfolk Punt – Dipper
Built 1981, Hardchine.  Composite hull, redecked 2011.  Sails by Boats n bits with Brand new Jib.  Aluminium mast & boom, road trailer, rigged for Symetric spinnaker.  Open to offers.
Contact Paul Wilcox – paul.wilcox@yahoo.co.uk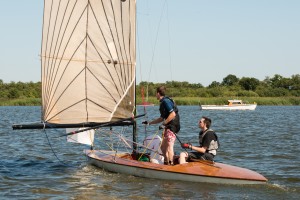 ---
Topper
Blueberry is a well-loved family dinghy, perfect for training new sailors, kids and (small) young adults. Owned for 15 years, sailed regularly up until the last few years and has won numerous club trophies.
Sail no. 25543
New Topper sail
New Topper trolley
New flat cover
Boat, spars, sail and trolley all in good condition.
Norwich viewings available.
---
Brambling   Feltham 15 Clinker-built half-Decker
Brambling was designed & built by Harry Feltham of Gosport in 1936.
She is a 15ft pine on oak clinker-built Half-decker with a drop-keel and varnished & antifouled hull.
Designed for estuary sailing with a good sheer to cope with short seas.
Bermuda rig with roll reefing and a small foresail on a roller. There is a bracket for an outboard.
Easy to sail single-handed, she can carry up to 6 people.
She has been very well cared-for by all her owners and is in a good state of repair.
She was refitted in 2008 with new decks (Canvas & resin over ply)
Original brass fittings including jamming cleats.
Mast & boom, Pine with brass fittings
Sails   Man-made sailcloth Main & foresail in good repair
Original cotton main & foresail
Heavy duty overall cover Green (new 2013)
Trailer available by separate purchase.
£2750.00
Please contact simonjennerorchard@gmail.com 07754 710654
---
---
Lady Sylvia no 60, hard Chine Punt.
Not used for a few years kept under cover. Probably sailable as is but in need of TLC. Currently rigged for asymmetric spinnaker
Contact Chris Williams
ckwstable@aol.com
0044 7802 253473
---
Norfolk Punt 40 – Decoy is for sale.
Decoy was built in 1937 by H T Percival of horning based on a Herbert Woods design.
Please contact Harry Scott for more details
---