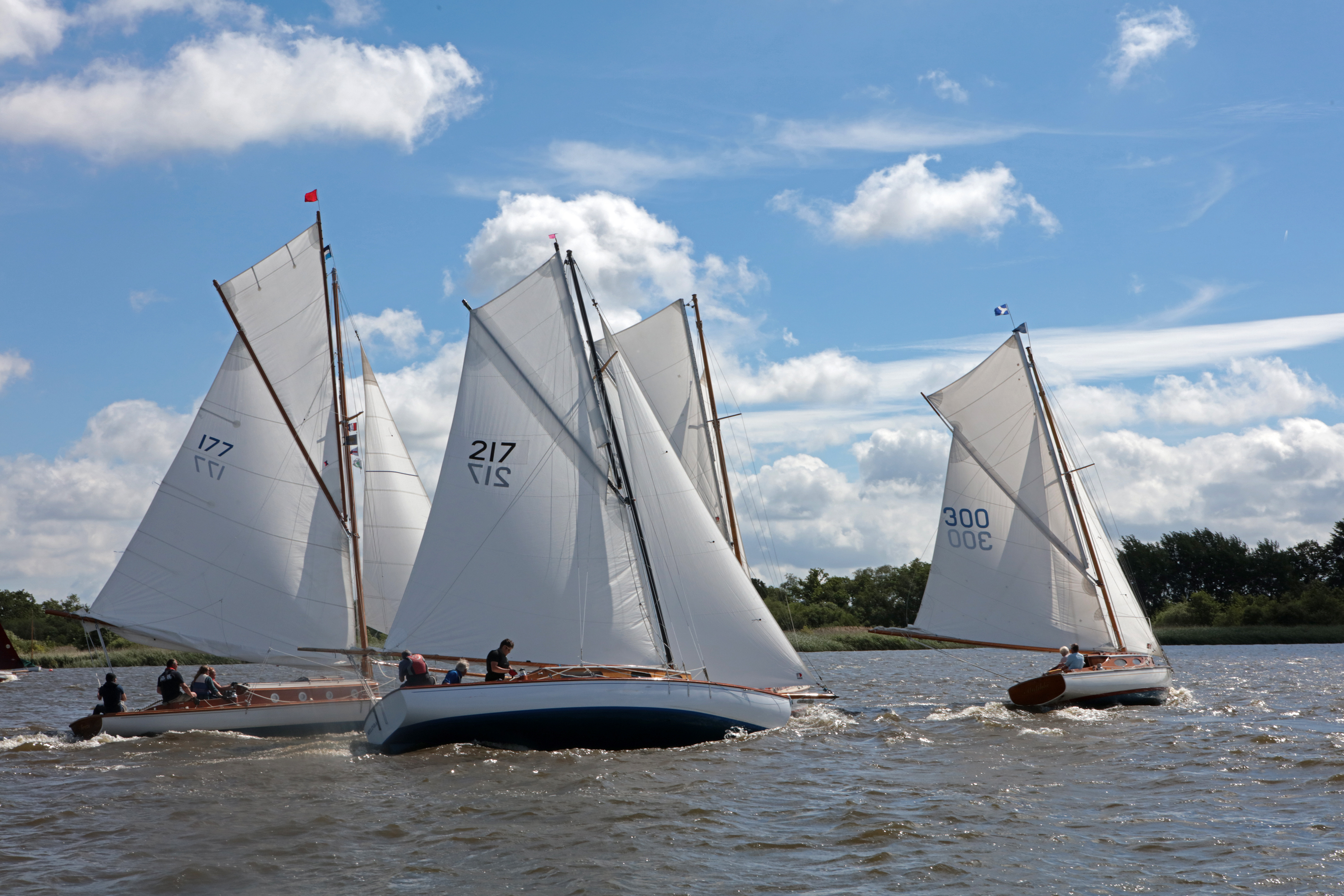 The Norfolk Punt Club welcomes new members. If you would like to come and have a look at the facilities, go for a trial sail and meet other members, please get in touch with one of the flag officers or the membership secretary.
Membership secretary
Mrs Caroline Dixey
Rushlight Barn, Birch Way, Mundham, Norwich, NR14 6EN
E-Mail : memsec@puntclub.co.uk
2022 annual membership fees are;
| | | |
| --- | --- | --- |
| Single | Individual member over 25 | £87 |
| Joint | (Partners, husband & wife) |  £129 |
| Family | (Joint members with children under 18) |  £157 |
| Associate | (i.e. Member lives outside Norfolk who does not normally keep a boat within ten miles of the Club premises at Barton Broad) | £48 |
| 18 – 25 | Based on age on 1 March 2022 | £44 |
| Junior | (under 18 and must be accompanied by an adult when using club facilities) | £28 |
These fees apply for payment made by direct debit only.
For details, please contact the Membership Secretary.  
To join please follow this link which will take to the NPC WebCollect page, go down to 'New Members Join Here'
---
Berths are also available to members:
COST
| | | | | | |
| --- | --- | --- | --- | --- | --- |
| Up to 2.4 m long | £42 | 2.4 m to 3.5 m long | £46 | 3.5 m to 4.3 m long | £63 |
| 4.3 m to 6.0 m long | £68 | PUNTS | £92 | | |
Stacking (Max 2) @ x 1.5 of larger craft price. Short term berthing possible if available.
See Members section for application form.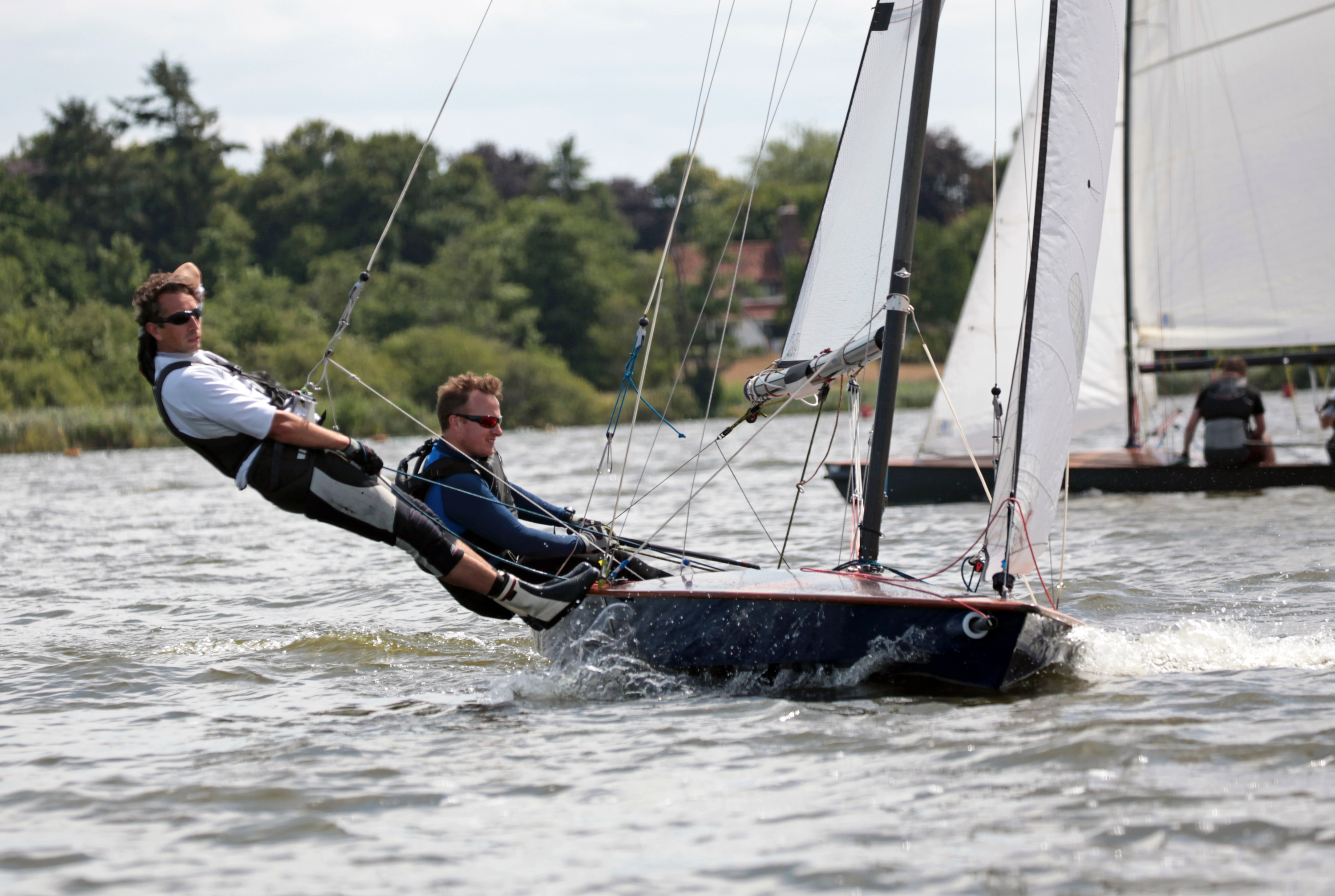 From the land
The Norfolk Punt Club moorings are located beside the Staithe at Barton . Just north of Hoveton and Wroxham, only half an hour from Norwich. Directions to the staithe from Norwich are;
From Norwich, take the A1151 through Wroxham and Hoveton.
About 2 miles after leaving Hoveton, turn right onto an unclassified road signposted Neatishead and Barton Turf.
Go through Neatishead (beware: blind double bends!) over the culvert bridge and take the first turning right (Hall Road), signposted Barton Turf.
On reaching Barton Turf, fork right beside the green, signposted "Staithe", and continue straight on down Staithe Road.
Parking for members is available at Barton Turf Adventure Centre (remember to display the NPC car sticker). Guests can use the public car parking facilities on the staithe and walk down the path to the club moorings.
From the water
The club pontoons are situated in the middle of Barton Broad!
---
---
Download 2022 Diary Copy
NPC-2022-diary-final

CLUB FACILITIES
Members to the club can benefit from;
On Land;
Car parking
Berthings
Slipway for launching boats
On the water
Changing facilities
Toilets
Moorings
Tea making facilities
Barbeque
and of course, ample cakes
---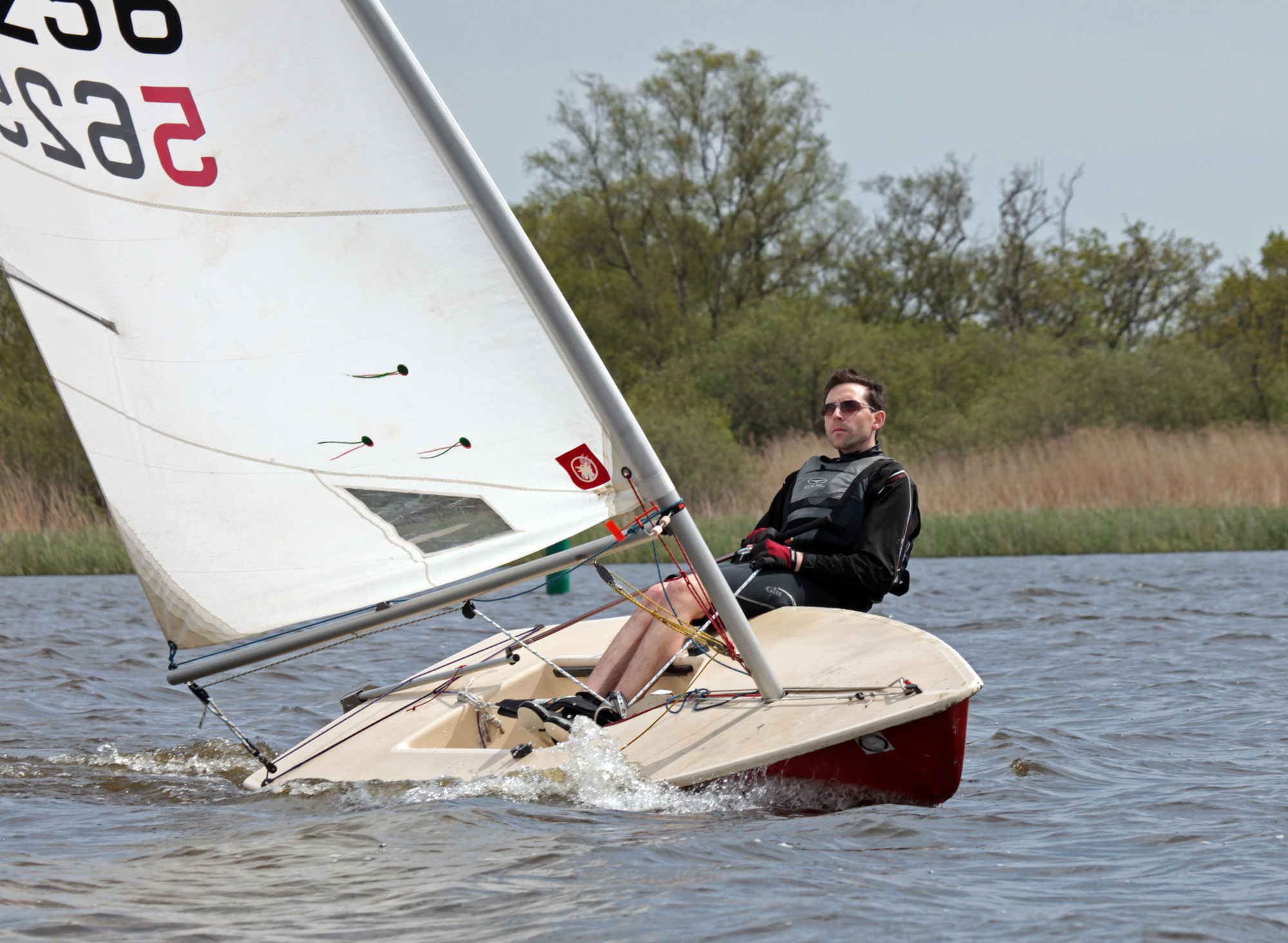 The club has 10 boats for members to use.
Please read the attached document should you wish to use the club boats; Club boats conditions of use
Yeoman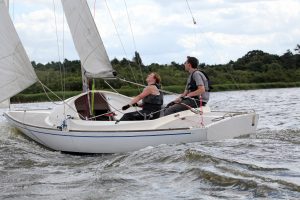 The Yeoman is a good sized keel boat. It has excellent all round performance making it ideal for family use. It is easy to control but has the performance to provide exciting action when racing. It can be raced with either 2 or 3 crew. The class is countrywide with various fleets on the Norfolk Broads and others in Scotland, Northern Ireland and the South Coast.
2 x RS Fevas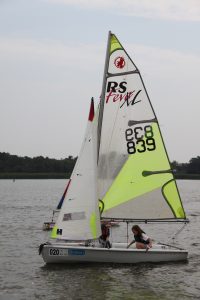 The RS Feva is simple to rig and easy to sail yet gives great performance with an asymmetric spinnaker. The Feva has spread rapidly all around the world and has training and racing programmes for novices through to world championship level racing. Perfect for two young sailors or adult and child teams, the Feva can also be sailed single-handed.
2 x Laser 2000

A very good FUN boat, this is a great boat for racing or just pottering. It will take 3 adults or parents and a couple of children.
Comfortable to sail with a nice high boom and a self draining cockpit and is very easy to sail. Furling jib and an asymmetric spinnaker to play with. It is fairly forgiving but can still challenge you. It has a training main that can be reefed so is great in a blow BUT there is a racing main available if folk want to seriously race the boat – Mark Elson looks after that.
One of the Laser 2000s is set up for a single trapeze.
Many of you may have already sailed a Laser 2000 at Minorca Sailing or other Med sailing schools.
2 x Toppers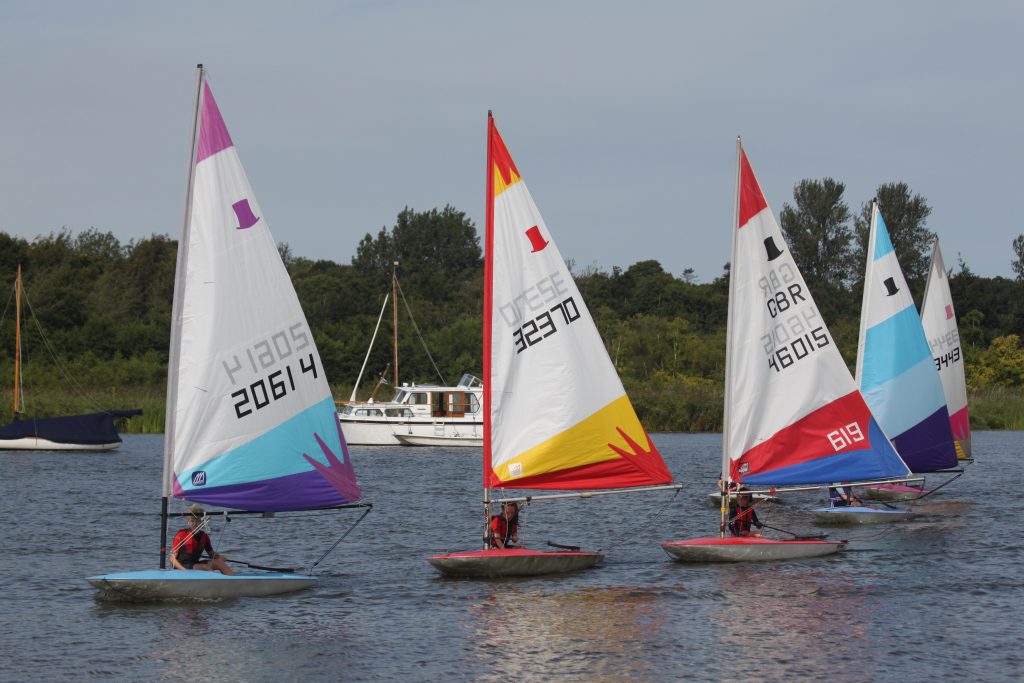 The Club has two toppers, a great single hander for young people and smaller adults. They can be easily reefed.
2 x Oppies
The Club has two Oppies which are small, single-handed sailing dinghy intended for use by children up to the age of 15 (depends on size of the child). It very popular and the ideal boat for children to learn in.

---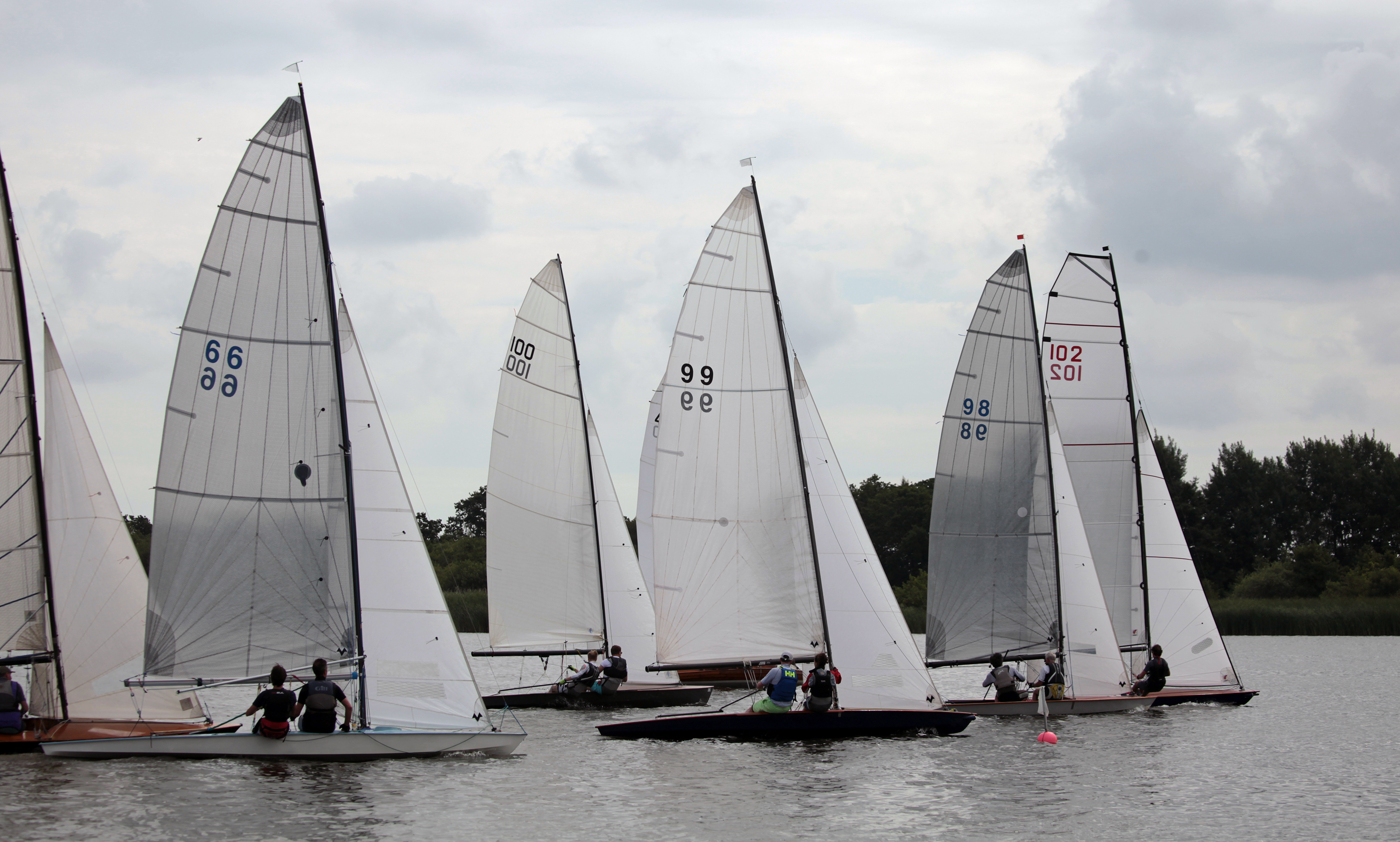 The club is run for the benefit of its members. The committee are elected by members at the AGM and are responsible for ensuring the club runs smoothly.
2022 Committee
If you are interested in becoming a member of the club, please contact one of the flag officers;
commodore@puntclub.co.uk
vc@puntclub.co.uk or
rc@puntclub.co.uk
For NPC membership applications, please contact the Membership Secretary
Mrs Caroline Dixey
Rushlight Barn
Birch Way
Mundham
Norfolk
NR14 6EN
E-Mail : membership at puntclub.co.uk: memsec@puntclub.co.uk
For NPC applications for berths in the club moorings, please contact
Dick and Kate Roe
E-Mail : berthmaster at punt club.co.uk Berths
Volunteers for the Tea, OOD and Safety Boat drivers rota should contact
commodore@puntclub.co.uk (at the moment)
For financial matters, please contact the Treasurer
Mr Rick Sealy
E-Mail : treasurer at punt club.co.uk The Treasurer
For website queries, please contact the web editors
webeditor@puntclub.co.uk The webeditor
For all other Club enquiries, please contact the Secretary
E-Mail : secretary at puntclub.co.uk The Secretary