We now order any items direct from CALDERS. Click on their link below and chose your item from their vast range. Then phone them to order and say which NPC logo you want. They will include that logo at NO EXTRA COST – which is very generous of them. You cannot order online if you want a logo included.
Please state which NPC design you want: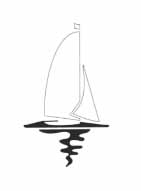 NPC Colour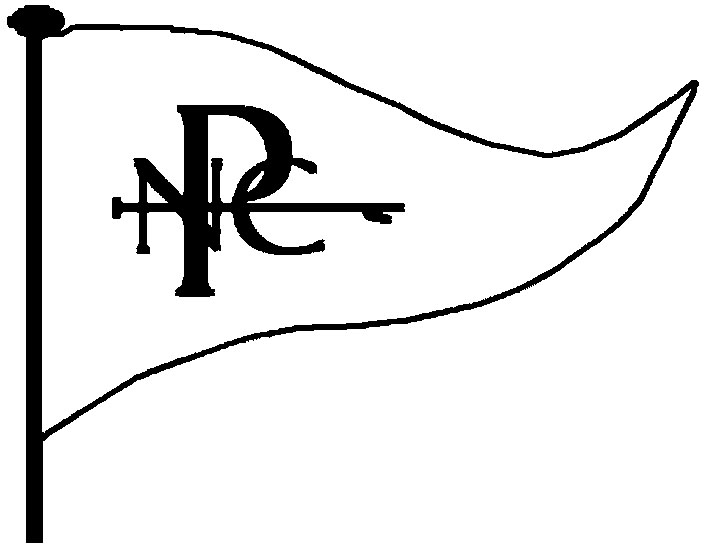 Photographs of the three actual embroidered designs below.
Solo-for-sale

420 dinghy – Cry Haddock
Sail number: 51283
An exciting two-hander with a trapeze and spinnaker, she is no longer the well-honed race winner that she once was, but still a great fun boat to sail.
Includes combi road trailer and launching trolley.
Price: £1800 o.n.o.
Contact: Fred Wickham at fredwickham@hotmail.com or on 07757741034.
---
Pandora 2 – River Cruiser
Built by Ernest Collins in 1934, Pandora II was one of four of the Pandora class in the hire fleet. After years of service she was put out to grass before being found by the grandsons of her builder in the 1990s: she was in a sorry state in a dyke in Stalham.
The two brothers set about restoring her and we have it on good authority that they did a 'proper job'. No bodges or short cuts. Unfortunately, the brothers fell out: one wanted to restore-to-sail; the other restore-to-sell. She never did get her internal doors or locker fronts cleaned up and re- instated. (We have them in their 1990s condition – ready for restoration).
We bought P2 from the Duke family in June 2006. Her handicap was -19(P). We started racing her, gently, at the Autumn downriver race in 2007. The handicap committee kindly eased her handicap to give us some encouragement. Her home turf was Barton – so the Barton Opens and Regattas were our opportunities to race her. As her results improved, so her handicap was hardened again. And after her win at the 2011 Barton Regatta she was down to -16.
P2 has not raced for a while, due to ill health, and sadly we have decided, after many miles of happy family cruising, as well as her modest racing achievements, she needs new owners to love her.
Main metrics: 28 ft length; 31 ft approx. with bow sprit. Beam 8 ft approx. Draws 3ft. Needs about 6ft 6ins under bridges.
Condition: Professionally restored. New mast made by Peter Chapman 2006. Kept under cover in wet shed during our ownership. Maintained professionally, including being lifted for regular antifouling and any remedial works. New bulkhead and 12 new planks early 2019.
Accommodation: 4 berths in original layout: 2 in main cabin; 2 in forepeak. Lifting roof – centre section. Water tank under transom with pump tap. Two-ring meths stove under seat in well. Sea toilet (no holding tank) behind curtain.
Kit: Mainsail in v.g. condition – new when we bought her. Jib, now furling, works but no longer in its prime. Outboard bracket. Remote petrol tank. Mooring lines. Quant pole. Fenders. Battery driven auto bilge pump. Heavy duty cover. 5 HP 4 stroke Mercury outboard, new in 2016, by negotiation.
Offers in the region of £10,000 but she does now need someone else to love her; so please contact: Alex Craker – 07780 953 309 as no reasonable offer refused.
---
Balholm
'Balholm' is a Swan Class motor cruiser made from sustainable African mahogany on oak frames and was designed by the well-respected Alan Buchanan. She was built at the Mariners' Boatyard at Bosham in Chichester harbour and was launched in 1961. Balholm has been in our ownership for over 23 years and has always been maintained regardless of cost. She was the subject of a comprehensive restoration when we first got her, the work carried out by Kingsley Farrington in Norwich.. She is 29 feet over the deck, has one large cabin and a huge cockpit well. A mahogany table bolts to the floor in either the cabin or this well, rendering her a wonderful boat for parties – six people can sit round with ease. The interior sleeps three or can convert to a double. The galley consists of a good cooker and worktops, the heads have a recent marine loo attached to a holding tank and washbasin. Balholm was built as a seagoing boat so with the right equipment you can go almost anywhere in Europe that takes your fancy. She has a 50hp Shire diesel with 4-bladed propellor & rope stripper. She holds a current Boat Safety Certificate. Beaching legs and folding mahogany steps allow estuaries and sandbanks to be enjoyed. Comprehensive documentation includes a set of plans and a letter from the designer, the original inventory, launch day photograph and the Motor Boat Monthly boat test from 1962. She is currently on the hard at Cox's Boatyard, Barton Turf. Asking price is only £24,000. Call 01508 522182 to arrange viewing, or mail@dixeys.co.uk
Currently lying at Cox's Boatyard, Barton Turf. Priced at £26,900. Contact Cox's Boatyard for more information.
---
Punt Mainsail
Dick Batt sail with square top only used half a dozen times, so as new.
Contact James Jarvey – james@jjboats.co.uk
---
White Boat Sails
YBOD main and jib. Excellent condition. Used sparingly for two seasons and have spent two more years in the attic. £700 O. N. O. Call Ian on 07885 866277 or email ian@kjim.co.uk.
---
Moorings available
Stalham
Please contact: Debs Leventon mobile 078976 680953