Pandora 2 – River Cruiser
Built by Ernest Collins in 1934, Pandora II was one of four of the Pandora class in the hire fleet. After years of service she was put out to grass before being found by the grandsons of her builder in the 1990s: she was in a sorry state in a dyke in Stalham.
The two brothers set about restoring her and we have it on good authority that they did a 'proper job'. No bodges or short cuts. Unfortunately, the brothers fell out: one wanted to restore-to-sail; the other restore-to-sell. She never did get her internal doors or locker fronts cleaned up and re- instated. (We have them in their 1990s condition – ready for restoration).
We bought P2 from the Duke family in June 2006. Her handicap was -19(P). We started racing her, gently, at the Autumn downriver race in 2007. The handicap committee kindly eased her handicap to give us some encouragement. Her home turf was Barton – so the Barton Opens and Regattas were our opportunities to race her. As her results improved, so her handicap was hardened again. And after her win at the 2011 Barton Regatta she was down to -16.
P2 has not raced for a while, due to ill health, and sadly we have decided, after many miles of happy family cruising, as well as her modest racing achievements, she needs new owners to love her.
Main metrics: 28 ft length; 31 ft approx. with bow sprit. Beam 8 ft approx. Draws 3ft. Needs about 6ft 6ins under bridges.
Condition: Professionally restored. New mast made by Peter Chapman 2006. Kept under cover in wet shed during our ownership. Maintained professionally, including being lifted for regular antifouling and any remedial works. New bulkhead and 12 new planks early 2019.
Accommodation: 4 berths in original layout: 2 in main cabin; 2 in forepeak. Lifting roof – centre section. Water tank under transom with pump tap. Two-ring meths stove under seat in well. Sea toilet (no holding tank) behind curtain.
Kit: Mainsail in v.g. condition – new when we bought her. Jib, now furling, works but no longer in its prime. Outboard bracket. Remote petrol tank. Mooring lines. Quant pole. Fenders. Battery driven auto bilge pump. Heavy duty cover. 5 HP 4 stroke Mercury outboard, new in 2016, by negotiation.
Offers in the region of £10,000Contact: Alex Craker – 07780 953 309
Splash
Splash No 831. Located in Norfolk UK. Good condition, has a training and a racing sail (3 years old), also has the Flash rig boom and sail for when you are feeling a bit more exited. Comes with launching trolley and a double road trailer and top cover. Looking for £850 o.n.o. for the lot. Viewings welcome.
Contact Ian Mason – ian@kjim.co.uk 07885 866277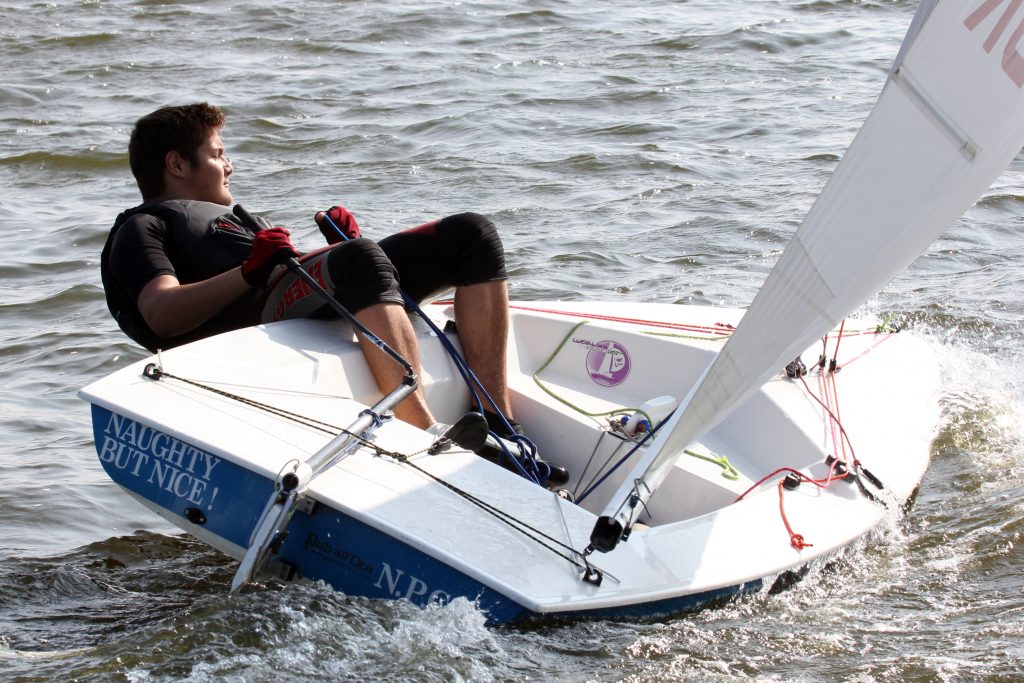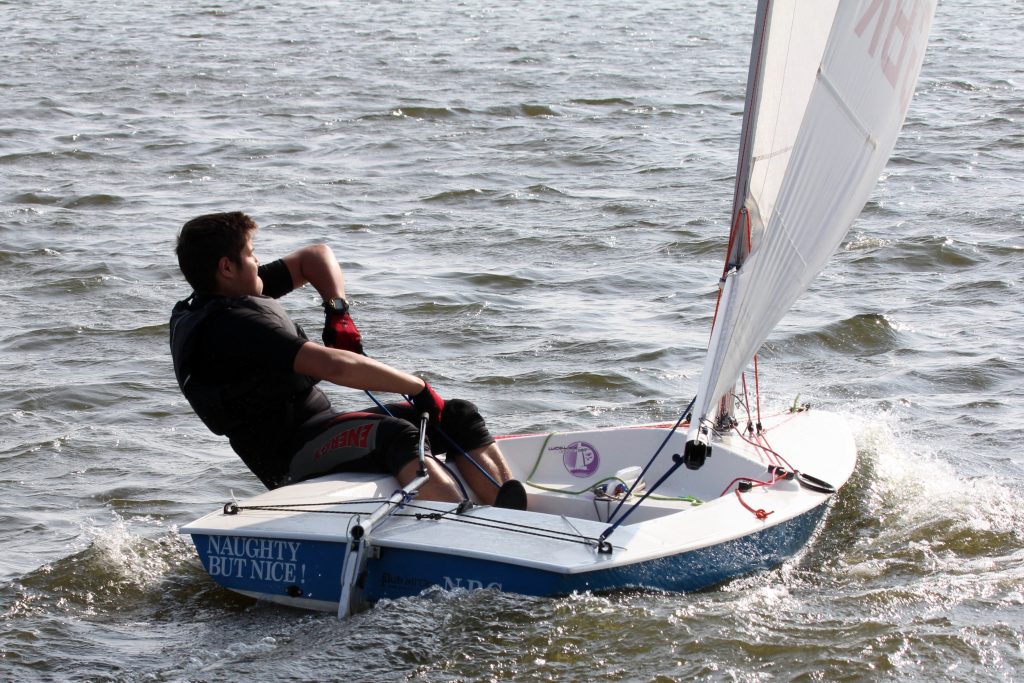 Dinghy road trailer
5.2m (17/0) overall length; 1.6m (2/8) wheel centre line width; complete with winch. £125 ono. Contact: 07766 523284
---
Balhom
'Balholm' is a Swan Class motor cruiser made from sustainable African mahogany on oak frames and was designed by the well-respected Alan Buchanan. She was built at the Mariners' Boatyard at Bosham in Chichester harbour and was launched in 1961. Balholm has been in our ownership for over 23 years and has always been maintained regardless of cost. She was the subject of a comprehensive restoration when we first got her, the work carried out by Kingsley Farrington in Norwich.. She is 29 feet over the deck, has one large cabin and a huge cockpit well. A mahogany table bolts to the floor in either the cabin or this well, rendering her a wonderful boat for parties – six people can sit round with ease. The interior sleeps three or can convert to a double. The galley consists of a good cooker and worktops, the heads have a recent marine loo attached to a holding tank and washbasin. Balholm was built as a seagoing boat so with the right equipment you can go almost anywhere in Europe that takes your fancy. She has a 50hp Shire diesel with 4-bladed propellor & rope stripper. She holds a current Boat Safety Certificate. Beaching legs and folding mahogany steps allow estuaries and sandbanks to be enjoyed. Comprehensive documentation includes a set of plans and a letter from the designer, the original inventory, launch day photograph and the Motor Boat Monthly boat test from 1962. She is currently on the hard at Cox's Boatyard, Barton Turf. Asking price is only £24,000. Call 01508 522182 to arrange viewing, or mail@dixeys.co.uk
---
SHEERLINE 24 FOOT 2 BERTH PICNIC BOAT "Whistling Duck"
Sheerline 740 Flair design built as a picnic boat and fully equipped as a comfortable two berth river cruiser with split sliding roof. Outside of vessel above and below waterline refurbished and repainted. Interior in original condition. Boat Safety Scheme Certificate valid until 31 July 2020. Launched 1998. BMC 1.5 litre inboard diesel engine with hydraulic drive: aft mooring camera; shore power supply; electric mud weight winch. Maintained by Cox's Boatyard since acquisition by present owners. Longitudinal passenger seating with purpose made additional cushions and supports to create full width double bed. Cooking facilities, pump-out toilet with shower and new water pump. New Voyager 4500 2-ring cooker with grill and oven fitted into original unit; twin gas cylinders; new Isotherm Cruise 42 litre fridge/freezer. Eberspacher heating system.
Currently lying at Cox's Boatyard, Barton Turf. Priced at £26,900. Contact Cox's Boatyard for more information.
---
Lugsail
GRP Heybridge Roach, built 4 years ago to a high spec fitted out in mahogany with folding rowlocks and oars. She has had only one season's use and comes with a piggyback road trailer and launching trolley. Price £1,900. Contact Judith Ellis (judith290@btinternet.com).
Suit of Punt sails for sale
Excellent set of championship winning Punt sails. Main and jib both available with relatively light use. Made by Dick Batt 3 years ago and still in very good shape .Guide price £500 for the set but open to offers.Interested? please call Matthew Scott on 01223 836161+
Punt Mainsail
Dick Batt sail with square top only used half a dozen times, so as new.
Contact James Jarvey – james@jjboats.co.uk
---
Moorings available
Stalham
Please contact: Debs Leventon mobile 078976 680953
Wetsuits for Sale
Various good condition or unused wetsuits surplus to requirements £5 each.Ladies size 12 – shorty, short arm summer suit and full arm winter steamer.Mens tall/slim fit longjohn.For details call Dick Roe on 07962 007176 or chat to Dick or Kate Dulieu at the club.
Moorings Available
Mooring available on the river Bure at Acle. Probably more suited to a motor boat as it is downstream of Acle Bridge. For details call Dick Roe on 07962 007176 or chat to Dick or Kate Dulieu at the club